Staff protest outside Tindle Newspaper's Farnham HQ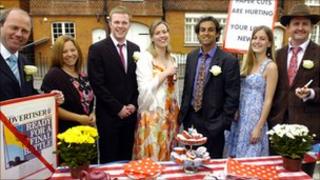 Union members staged a street party picket outside the headquarters of a Farnham-based newspaper group in a strike over staffing levels.
The journalists, who work on a series of newspapers in north London, travelled to Surrey to protest outside owners Tindle Newspapers on Thursday.
The National Union of Journalists says three reporters fill nine newspapers.
But Tindle says it is the only media group not to have made compulsory redundancies during the recession.
The strikers from North London and Herts Newspapers, which cover Enfield, Barnet and Haringey, dressed up in wedding outfits and decorated their picket with bunting.
'Churnalism'
They began the strike over the lack of staff on 19 April and members took the final day of their protest to the headquarters of Tindle, which has more than 220 titles around the UK.
NUJ representative Jonathan Lovett said the staff were victims of "churnalism", where reporters have little time to file original stories and only rewrite press releases.
"This is not about pay, it's about the quality of newspapers," he said.
"We're short changing the readers, giving them an inferior product and we were only after one extra member of staff.
"Today's protest is taking place in a celebratory atmosphere with cakes and bunting, as we feel local press should be celebrated."
The newspaper group was founded by Sir Ray Tindle after World War II with his £300 demob money.
He said the Enfield papers had lost over £600,000 in the three years of the recession and few newspaper groups had reinvested as much money as they had.
"The whole of the press is having trouble and of course the profit margins that are being bandied about refer maybe to some of the bigger groups in the past, but certainly not today," he said.
"What is happening now is that papers are suffering rather badly and I personally addressed the entire staff at Enfield only three weeks ago and I told them all of the losses.
"I asked them all to join with us to find a solution and the vast majority of the staff, 30 to 40 of them, stayed and are helping us to find that solution."