Royal Logistic Corps Museum holds event on army rations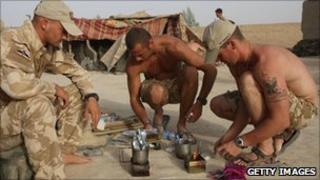 An exhibition showing British army food over the centuries is to open at the Royal Logistic Corps Museum in Surrey.
The "Food in the Field" show details how rations have changed, from the 15th Century Battle of Bosworth through to the present day in Afghanistan.
Visitors will be given the chance to sample modern rations and meet soldiers who have cooked for the army.
The exhibition will run be on Saturday, 7 May and Sunday, 8 May at the Deepcut museum.
Curator Andy Robertshaw, who is also an honorary research fellow at the Centre for World War I Studies at the University of Birmingham, said: "Napoleon said an army marches on its stomach.
"We will be going right back to Bosworth to see what soldiers were eating in the Wars of the Roses through to World War II and the Falklands."
Mr Robertshaw said the recent change in army rations to more palatable food reversed a trend which began in World War II.
"The army in World War I were using branded food, whether it was Tate and Lyle or plum and apple jam, the food was bright and colourful," he said.
"But in World War II and through to the '70s and '80s it became rather dull and unattractive.
"You really can't encourage people to eat food if it doesn't look attractive in the tin let alone what it looks like on the plate.
"What the army has done now is gone back to food that is branded."