Guildford scouts parade marks 50th anniversary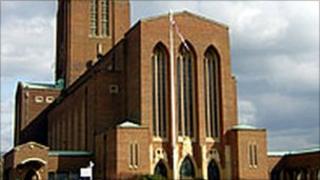 Up to 1,000 scouts have been taking part in a parade to belatedly mark St George's Day, and the 50th anniversary of Guildford Cathedral.
The youngsters, representing Guildford East and West scouts, marched from the university to the church on Sunday.
The parade is usually held on the closest Sunday to St George's Day but as it fell on Easter it was delayed.
The cathedral, which sits at the top of Stag Hill, has begun a year of celebrations to mark its milestone.
Other events lined up to mark the anniversary include a series of concerts, the Golden Jubilee summer fair and lectures.
A spokesman Guildford West District Scout Council said: "The first St Georges Day parade that the Scouts held at the cathedral was in April 1962 as the Cathedral was not open till May 1961.
"We are proud to be involved with the Cathedral for so long."