Reigate children in school places 'limbo'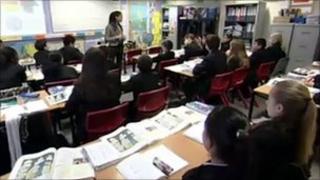 Parents in Surrey say they are in limbo because pressure on primary school places means they are unsure where children will be going in September.
The number of children allocated their first choice fell from 87% in 2007 to 82% this year and parents have been told to go on waiting lists or appeal.
Claire Wood-Wooley from Reigate, who has two girls waiting for places, said the admission process was "broken".
Surrey County Council said the majority of parents got the schools they wanted.
Ms Wood-Wooley gave two preferences for each of her two daughters, who are starting infant and junior schools in September, but was not allocated any of them.
She wanted her eldest daughter to go to Reigate Priory, less than a mile from their home but instead she was allocated a school 2.5 miles away.
Her younger daughter also failed to get into a school 650 yards (590m) from home.
"They have given me schools that I have to drive to - 2.5 miles in one direction and then back again," she said.
"It is OK to go on the waiting list but it leaves us in limbo.
"One of the schools we have gone for has a waiting list of 68 so some people won't get in."
'Caught out'
Kevin Uphill, who also hoped his daughter would go to Reigate Priory a mile away from home, has been allocated a school 3.2 miles away, the other side of Redhill.
"I have lived in the area 41 years and feel very let down by the system," he said.
The council's assistant director for schools and learning Peter-John Wilkinson said the pressure on school places was caused by an increase in population.
"The population has gone up quickly since 2001 and we are struggling to keep pace," he said.
"People should keep talking to our admissions team, but I can't give a universal promise that everyone will get the school of their preference."