Surrey County Council votes down parking fee petition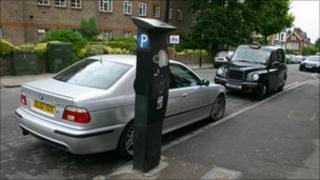 A petition signed by more than 26,000 people opposing plans to charge for on-street parking in Surrey has been voted down by the county council.
Transport spokesman Ian Lake said it would have been inappropriate for the council to support the petition because the original plans had changed.
Campaigners had said the plans would be a blow to shops and businesses.
The council has identified about 3,500 on-street parking spaces where charges could be implemented.
But under the revised proposals, the council would offer 30-minutes free parking in some areas.
'Campaigners ignored'
Councillor Ian Lake said: "We've spent a long time listening to residents, business people and local councillors to ensure that when decisions are made, everyone's views are taken into account.
"These views are helping shape policy and have led to our plans to look at providing half an hour free parking in some areas."
He added: "The original proposals that were the subject of the petition are now very different.
"We've made a number of changes after listening to people's concerns, which is why it would have been inappropriate to support the petition."
He also said the council would consider commuter concerns when deciding where to place pay-and-display bays.
After the meeting, campaigners said the council had ignored the results of the public consultation and the petition should have been acted upon because the scale of support.
Amanda Griffiths, Oxted resident, said: "We saw about an hour of councillors self-congratulating each other with their speeches.
"When it came to the meeting, and the debate we all had come to listen to, time was limited, the chairman would not let people speak, and she would not let people from the public gallery applaud."