Shottermill doorstep knife robber e-fit released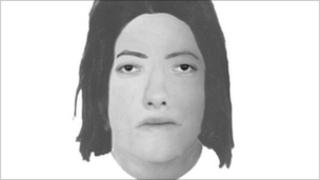 An e-fit of a man suspected of attacking a 69-year-old woman on her doorstep in Surrey has been released.
Officers said the victim had returned home to a property in The Meads, Shottermill, at 1800 BST on 14 May.
When she opened her front door, she was pushed from behind and fell into the hallway, hitting her head.
The robber slashed her on the arm and caused a puncture wound to her stomach. She was treated in hospital for minor injuries.
Det Con Dave Pellatt said he hoped somebody may have seen the suspect in the area prior to the attack.
The suspect is described as a man in his 40s of broad build. He had dirty black collar-length hair and a gruff voice, police said.