Surrey parking charges scheme backed by councillors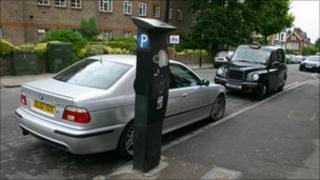 Parking charges are to be introduced in shopping streets in two Surrey boroughs after councillors backed the plan.
Surrey County Council has identified about 3,500 on-street parking spaces where charges could be implemented.
On Tuesday, councillors agreed to introduce charges in Elmbridge and Reigate and Banstead.
More than 26,000 people have signed a petition on the council's website against the proposal which could be rolled out across the county.
'Hugely irresponsible'
Campaigners have previously said the plans would be "a blow" to local shops and businesses.
Liberal Democrat Steve Wells, who represents Claygate in Elmbridge, told BBC Surrey: "I think it's a very bad decision. Also, I think it is hugely irresponsible.
"The county council did say they'd listen to each area on a case-by-case basis. We have put forward a strong rebuttal of Surrey's proposals to put metered parking in Claygate.
"We've met the objectives that pay-and-display is supposed to meet without it. It doesn't make a loss in Claygate.
"It's a regime were you can park for one hour and then not return for one hour."
He added: "This is not about party politics. This is about Surrey County Council not making a business case for imposing pay and display in Claygate."
Under the proposals, motorists would be offered 30-minutes free parking in some areas.
'Listened to views'
The Conservative-controlled council has said the parking service last year made a £500,000 deficit, which is not sustainable.
Councillor Ian Lake said: "We have spent a lot of time listening to the views of local people and businesses to ensure on-street parking is tailored to the needs of each community.
"This helped shape the policy and led to the provision of half-an-hour free parking which means people popping to their local shops for a pint of milk can do so without paying to park.
"We now have a series of changes to on-street parking which will provide better value for money for taxpayers and increase customer turnover for businesses by stopping people from blocking spaces all day."