Surrey businesses complain over parking consultation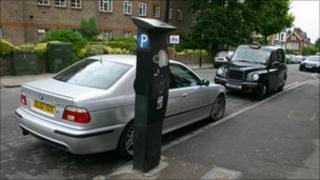 Business and community leaders have made a formal complaint to Surrey County Council about its consultation process over on-street parking charges.
Shirley Cox, of Reigate Business Guild, said people in Elmbridge and Reigate and Banstead had been unfairly treated.
On 24 May councillors agreed to introduce charges to the two boroughs despite a 26,000-signature petition against the plans.
The authority said it had "spent a lot of time listening" to people's views.
Ms Cox and 10 other heads of business and residents' groups said councillors agreed to change the consultation process for other areas but not Elmbridge and Reigate and Banstead because it was too far advanced.
'Unfairly disadvantaged'
Their letter to council leader Dr Andrew Povey states: "That the consultation process had to be changed is prima facie evidence that the original process was flawed and inadequate.
"We believe that the correct way to have dealt with this would have been to adopt the new consultation method for all districts and to have begun afresh the statutory process for Reigate and Banstead and for Elmbridge.
"By failing to so do the people of Reigate and Banstead and of Elmbridge have been unfairly disadvantaged and discriminated against."
Surrey County Council has identified about 3,500 on-street parking spaces where charges could be implemented.
More than 26,000 people have signed a petition on the council's website against the proposal which could be rolled out across the county.
Under the proposals, motorists would be offered 30 minutes free parking in some areas.
The Conservative-controlled council has said the parking service made a £500,000 deficit last year, which it said was not sustainable.
Following the decision in May councillor Ian Lake said: "We have spent a lot of time listening to the views of local people and businesses to ensure on-street parking is tailored to the needs of each community.
"This helped shape the policy and led to the provision of half-an-hour free parking which means people popping to their local shops for a pint of milk can do so without paying to park."