Leatherhead house burglars steal jewellery worth £1m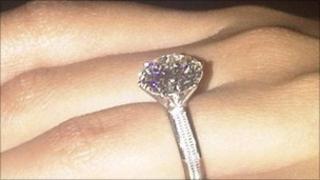 Jewellery worth about £1m has been stolen from a property in Surrey.
Surrey Police said earrings and a ring, both made of platinum and diamonds and worth about £70,000 each, were among the items stolen in Leatherhead.
Burglars also took a vintage gold Rolex watch worth about £50,000 and another pair of earrings worth about £10,000.
Witnesses reported seeing a Ford Fiesta being driven around the area at the time of the raid, on Sunday afternoon. One person saw five men in the car.
Det Insp Dave Cooper said: "The items stolen during this burglary are all of very high quality and are extremely valuable.
"Many also have huge sentimental value and the owners are desperate to see their safe return."
Panther diamond ring
He said police believed the victims had been specifically targeted by the burglars.
He added the jewellery was hugely valuable and would be easily identifiable to the owner.
Det Insp Cooper appealed to jewellers, pawn shops, auction houses and even people in pubs to contact police if they were offered expensive jewellery at a bargain price.
Other items taken in the raid between 1330 BST and 2300 BST included a £6,000 gold Cartier chain and pendant, and a number of diamond rings worth several thousand pounds each.
One of the diamond rings was made in the shape of a panther.
Police said many of the jewellery items were unbranded and had been bought from private jewellers.
The thieves also took silver and gold coins, several pairs of men's designer jeans and a large amount of foreign currency and sterling.