Hindhead project to build £2m reservoir nears end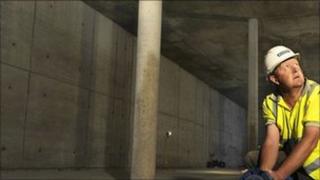 A £2m underground reservoir being built in Surrey is taking shape and due to be completed this summer.
South East Water said the tank near the Devil's Punchbowl at Hindhead would secure supplies for 12,500 customers in Hindhead, Grayshott and Bramshott.
Defra said the South East was in a "near-drought" state in June.
Another company, Sutton and East Surrey Water asked customers to use water with care and said its boreholes were below average for the time of year.
'Modern-day cathedral'
The new reservoir being built by South East Water is partially buried, has its roof supported by concrete columns, and will be surrounded by grassed embankments to minimise its visual impact.
The company said it would be able to store up to five million litres of water.
Underground pipework still has to be fitted before the reservoir will be filled with treated drinking water and brought into operation.
South East Water said with the columns built and the roof now in place, the tank was "eerily quiet and cool but with fantastic acoustics - almost like a modern-day cathedral".
Reptiles at the site have been moved to the Devil's Punchbowl beauty spot. The heathland site is a special protection area for nature conservation.