Sheffield man to travel from Scotland to Arctic Circle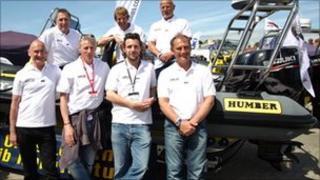 A man from South Yorkshire is preparing to set a new record by travelling to the Arctic Circle in a six-metre (20ft) rigid inflatable boat.
Mark Beeley from Woodseats, Sheffield, plans to take just six days to travel from Scotland in the small boat.
It will be the first time the route has been taken in a boat of such a size.
The seven-man team plans to leave on 27 June and take two boats with it to battle against the North Sea conditions, which include 120mph winds.
'Black and blue'
Mr Beeley said: "We're creating the route of the Vikings in reverse if you like, from Wick in Scotland out past Alderney in Shetland, and across to the coast in Norway and then up to the coast in the Arctic Circle.
"Up in the north it should be light the whole time. It's a long way to go in a little boat like this and if the weather's bad you will be quite black and blue by the time you get there."
The temperature is expected to be about 4 degrees Celsius (39.2 degrees Fahrenheit) and the boat will travel at a speed of about 25 knots (28 mph).
The team will leave the Scottish Highlands and arrive on the Shetland Islands on the first day, before travelling across the North Sea to Norway on the second.