1,900 Surrey children form Olympic rings in record bid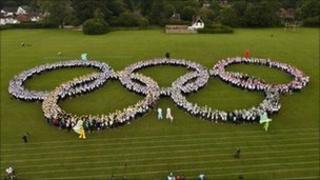 Hundreds of children joined together in a bid to set a record for the largest number of people to form Olympic rings.
The display at George Abbot School in Guildford, Surrey, coincided with the 400-day countdown to the London 2012 Olympics and International Olympic Day.
The 1,900 children, school staff and councillors were joined by Team GB athletes on Thursday.
Surrey County Council, which organised the event, hopes it may have been a world record.
'Olympic history'
The previous record is thought to have been set on 24 June 2008, in Beijing, China, and featured 1,202 people.
Team GB kayakers Rachel Cawthorn and Abigail Edmonds; 800m runner Adelle Tracey and sprinter Sophia Warner joined the children.
Councillor Denise Saliagopoulos, cabinet member for community services, said the children had made a "piece of Olympic history".
"There was a thrill of excitement in the air during the build up and it was spectacular to see everyone forming the rings."