Dotted fan-foot moth seen at Surrey wildlife reserve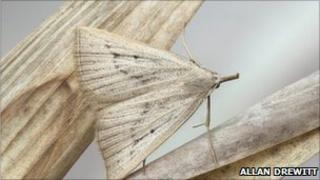 A moth declared extinct in Surrey 14 years ago has been discovered at a wildlife reserve in the county.
The nationally scarce dotted fan-foot moth was found at Manor Farm, in Byfleet, in a survey by Surrey Wildlife Trust, which owns and manages the site.
It was discovered in the reserve's wet meadow, where a species of money spider [Baryphyma pratense] never before seen in Surrey was also found.
The wildlife trust said a rove beetle had also been found in the survey.
It normally lives in a wider range of wet habitats.
Scott Dodd, invertebrate ecologist with the trust, said the riverside meadows had been largely left alone "and this could go some way to explaining the presence of these wetland specialists, in terms of high ecological continuity".