Surrey man honoured for neighbour rescue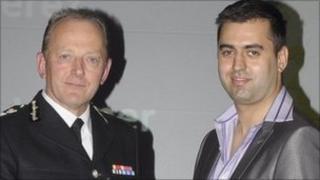 A Surrey man who rescued a neighbour from her knife-wielding ex-partner has been recognised for his bravery.
David Perez restrained the man after going to the aid of the woman in Guildford in December 2009.
He received a gold medal at the Association of Chief Police Officers' bravery awards.
Chief Constable Mark Rowley said: "David deserves his award as his actions encapsulate everything that is good about community spirit."
He added: "He put his own safety on the line for the sake of others and in doing so made a dramatic impact on the lives of his neighbour and her children."
Mr Perez was one of 14 people across the country to receive a gold medal from Acpo president Sir Hugh Orde at the ceremony in Harrogate on Tuesday.
Surrey Police said the man restrained by Mr Perez was later jailed for three years and six months.