Guildford start for canoeist's 700 mile canal journey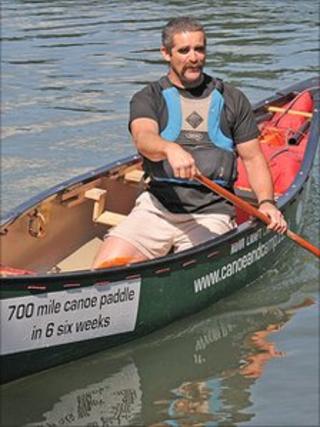 A canoeist is set to paddle 700 miles along the canals and rivers of England to raise money for Help for Heroes.
David Penk, from Haywards Heath, will begin his journey in Guildford on 9 July before passing through Leeds and Birmingham.
He plans to take six weeks to do the trip and will sleep outside on the way.
The 51-year-old said he chose the charity, which helps wounded servicemen and women, as a friend was about to be deployed to Afghanistan.
"I love paddling, it slows everything down," he said.
"The wildlife doesn't seem too bothered by it and you get a view of nature you wouldn't see otherwise."
'Challenge'
Mr Penk, who is an IT technician at a private school, said he would set up camp on riverbanks.
"I don't like tents anymore," he said. "It's much easier to to sling a hammock up between two trees.
"If it rains, it rains, but you get used to it. I can also turn my canoe upside down and use it as a shelter."
He said his two biggest challenges would be carrying the canoe over locks and being unable to see his first grandson, who is due to be born while he is away.
"I'm not going to turn back to see him, I will see the challenge through until the end," he said.