Surrey roads warning for 2012 test event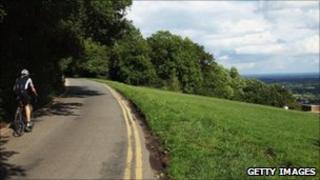 Residents and businesses in Surrey have been sent letters warning of seven-hour road closures next month as an Olympics "dress rehearsal" takes place.
The London-Surrey Cycle Classic, planned for 14 August, will attract many of the riders who will compete in the London 2012 Games.
Letters with maps of the route and road closure times are being sent to people living within 100m of the route.
Walton, Byfleet, Dorking, Box Hill, Leatherhead and Esher will be affected.
The event will start at The Mall, in central London, before crossing over Hampton Court Bridge into Surrey at 0930 BST.
The circuit includes two laps of Box Hill before cyclists cross back over the bridge at 1150 BST and back into London.
The event is a test run for the London 2012 Olympic men's and women's cycling road races which will take place on Saturday 28 July and Sunday 29 July next year.
The Surrey County Council letters explain the roads need to be closed for four hours before and three hours after the race.
This will allow time for cars to be removed from the race route, barriers to be erected and for support cars, including paramedics' vehicles, to take their places.
Once the race has gone through, the barriers will need to be taken down and spectators dispersed before it is safe to let traffic through.
Residents are advised to park their cars elsewhere the night before.
The letters also give information about how to watch the race free.
The only part of the route that will be ticketed is along Zig-Zag Road on Box Hill, where the wildlife is most sensitive.
"Our aim is to ensure residents and businesses have all the information they need in plenty of time to prepare," said county council cabinet member Denise Saliagopoulos.
"The test race is key to the preparations for the London 2012 Games and we have been working hard with all the organisations involved to ensure its success while keeping disruption to a minimum."