Milly Dowler's family want 'truth' over phone hacking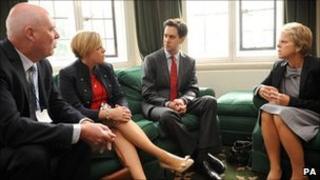 Politicians must be prepared to have their "dirty linen washed in public" to get to the truth about phone hacking, Milly Dowler's family have said.
The murdered Surrey schoolgirl's parents, Bob and Sally, and her sister Gemma held a meeting with Labour leader Ed Miliband at Westminster.
They urged him to push for an in-depth investigation even though it may cause embarrassment to senior politicians.
Afterwards, their solicitor Mark Lewis said politicians should be "fearless".
"It's time for politicians to stand up to the press," he said.
Mr Lewis added that the Dowler family had told Mr Miliband that they had had to go through the "awful experience of having their dirty linen washed in public".
'Terrible things'
"Now it is time for politicians to have to go through the same experience to find out the truth of the position in respect to press intrusion into their lives and how it had been fomented by the relationship between the press and politicians," he said.
Mr Miliband said: "I think it's my responsibility, David Cameron's and Nick Clegg's, to work together now to do justice to them.
"What the Dowler family were saying to me is that it's very, very important that the judge-led inquiry doesn't just look at a narrow set of issues but looks at the broad range of issues, the relationships between the police and newspapers.
"They had experiences which suggest that there were contacts going on between the police and newspapers which, frankly, invaded their privacy and were terrible things."
On Monday, Mrs Dowler and her daughter met Mr Clegg to discuss the hacking row, calling for News International chief executive Rebekah Brooks to resign.
Mrs Brooks was News of the World editor when 13-year-old Milly's phone was allegedly hacked after her abduction in 2002.