Surrey waste and recycle park plan 'hugely damaging'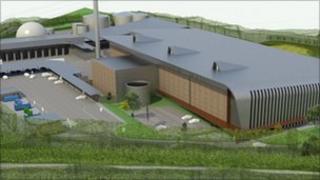 A row has broken out between local authorities in Surrey over controversial plans to extend a waste recycling plant.
SITA Surrey has been working on behalf of Surrey County Council (SCC) to develop the "eco park" at Charlton Lane, Shepperton.
Councillors at the Tory-run county council approved the plan last month.
But Spelthorne Borough Council (SBC) said it would be "hugely damaging" for the area.
The facility will feature a gasification chamber, which heats waste to produce gas for energy.
'Hugely damaging'
The plant is expected to treat 60,000 tonnes of household waste each year, while an anaerobic digestion facility would dispose of 40,000 tonnes of food waste.
SCC has said sending waste to landfill costs Surrey taxpayers about £600,000 every month and damages the environment.
But councillor Richard Smith-Ainsley, the deputy council leader at the Conservative-controlled SBC, said: "This is a hugely damaging proposal to which local residents are overwhelmingly opposed.
"This proposal will have an enormous impact on a large number of residents many of whom live within a few hundred metres of the site."
Mr Smith-Ainsley has called on the secretary of state for communities and local government to block the project.
A spokeswoman for SCC said the decision had already been referred to the government for final approval but declined to respond to Mr Smith-Ainsley's specific criticisms.