Surrey Police use mobile fingerprint scanners on beat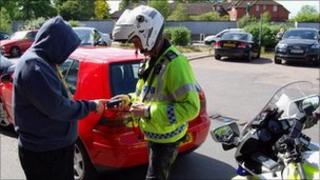 Mobile fingerprinting devices are being used across Surrey after the county was equipped with new technology.
The mobile identification (MobileID) technology lets police check a person's identity on the street within minutes.
Last year, it was announced all 43 police forces in England and Wales would start using the scanners.
Surrey Police said officers were now using the technology and had already used it to identify several people who they wanted to trace.
Ch Supt David Leeney said: "MobileID technology is already helping our officers on the front line to identify offenders, cut down on wasted time in custody suites and enhance officer safety.
"MobileID is a powerful tool in the fight against criminals who trade on anonymity - one of the most powerful weapons criminals have is their ability to hide their true identity and avoid arrest.
"With the advent of MobileID, this will become much more difficult."
He said the scanners allowed police to check a person's identity within two minutes - previously it could take several hours to arrest and detain an individual.
Surrey Police said they had already used the scanners to identify a man wanted for kidnap who had given false details, an absconder from prison, two men who had given a false identity during a drugs search, and another man who was wanted for aggravated burglary and had also given a false identity.
Officers use the device to scan a person's fingerprints on the street and check them against a database.
Fingerprints taken on MobileID devices are not retained after a search.