Surrey Police hail car crime Twitter campaign a success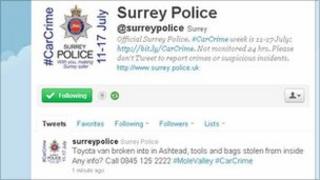 Surrey Police are hailing the success of a week-long campaign using Twitter to raise public awareness of vehicle crime.
Surrey Police tweeted every time a vehicle was broken into or stolen, and reported 89 thefts from motor vehicles, and 31 reports of stolen vehicles on the social networking website.
The force's 'Tweet Week ran from 11 to 17 July.
Supt Duncan Greenhalgh said the number of incidents reported to police over the week was in line with their average figures, but "it seems to have been a real eye-opener for many residents".
'Vehicles left unlocked'
Tweet Week was launched with an hour-long tweet chat which gave residents the opportunity to put their specific vehicle crime questions to Mr Greenhalgh.
All the incidents, apart from those which were operationally important, were posted on Twitter by staff from the Contact Centre.
Mr Greenhalgh said they had received "great feedback from the public".
Police said many of the vehicles which had been targeted had been left unlocked.
Ch Supt Gavin Stephens said: "If you can get another couple thousand pairs of eyes looking out for a vehicle that may have been stolen, or telling their friends to not leave things on display, then that's going to help us even more."