Hindhead Tunnel opening date announced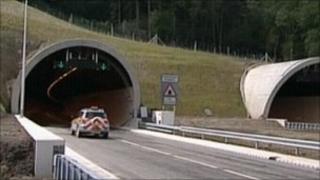 The opening date of the £371m Hindhead Tunnel under the Devil's Punch Bowl in Surrey has been announced after a four-and-a-half year construction project.
The £371m 1.25 mile (1.8km) structure on the London to Portsmouth A3 will open to southbound traffic on 27 July.
Northbound traffic will be allowed through a few days later, with the old road remaining in use until then.
Transport Secretary Philip Hammond will officially open the tunnel, with the first traffic escorted in convoy.
The Highways Agency said the opening ceremony would not be open to the public for safety and operational reasons.
Staged scenario
Construction on the twin-bored tunnel, which is one of the longest in England, began in January 2007.
It followed a 30-year campaign for improvements to the Hindhead traffic bottleneck supported by former Conservative MP for South West Surrey, Baroness Bottomley, among others.
The tunnel, which will be used by 30,000 vehicles a day, runs under the Devil's Punch Bowl, a large hollow of dry sandy heath to the east of Hindhead.
The existing A3 between the National Trust cafe and Boundless Road will be closed to through traffic after the tunnel is opened and acres of land returned to heathland.
Emergency teams tested their response to a major incident in the new tunnel last month.
Police, fire and ambulance crews dealt with a staged scenario involving 16 casualties from two separate vehicle crashes and a serious fire underground.