London 2012 cycling road race restrictions on Box Hill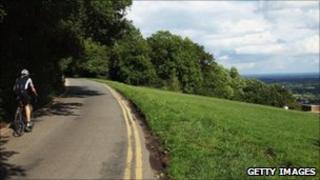 Organisers say it will be the "most beautiful" part of the Olympic cycling road race in 2012.
But the Zig Zag Road, which winds its way up Box Hill in Surrey, is not without its share of controversy.
Spectator numbers have been limited over concerns the crowds will damage rare wildlife on the hill, which is a Site of Special Scientific Interest (SSSI).
Worries have also been raised by local wildlife groups which feel other parts of the route could still be damaged by over-eager spectators and camera crews.
The race route takes cyclists from The Mall, through west London and then out to Surrey and back. In total, the men's race will be 240km (149 miles) and the women's 130km (80.78 miles).
With only a year to go until the Olympics, organisers predict Box Hill, which is owned by the National Trust, will be a popular place to watch the race, as the men will go around it nine times and the women twice.
Test event
The best spot to watch the race on the hill is the Zig Zag Road, as the cyclists will be going up it relatively slowly.
Organisers have aimed to please spectators and wildlife groups alike by restricting access to this stretch, but still allowing 3,400 spectators to stand there.
A test event, the London-Surrey Cycle Classic, is planned for 14 August, giving organisers the chance to review the plan.
Andrew Wright, the National Trust countryside manager for East Surrey, who along with the London Organising Committee of the Olympic and Paralympic Games (LOCOG) decided on the route's restrictions, said the vast majority of Box Hill was free of restrictions.
"You couldn't argue that anywhere's more special [scientifically] in the South East," he said.
"It will be the most beautiful part of the Olympics.
"Unrestricted access was never a concern because we explained the designations to LOCOG right from the outset."
'Negative impact'
The site is carefully managed and has rare butterflies, moths and plants, including orchids.
Sarah Jane Chimbwandira, who is director of biodiversity at Surrey Wildlife Trust, said she welcomed the attention that LOCOG had given to Box Hill, but she is worried spectators will be pushed to other vulnerable parts of the route.
She said: "We hope that LOCOG will display a similar level of sensitivity when it comes to managing and offsetting the negative impacts that the race and the many thousands of spectators that will hope to view it will have on the numerous other wildlife sites that lie adjacent to the route."
A LOCOG spokeswoman said it was working closely with the National Trust and Natural England to protect areas of special scientific and environmental interest along the route.
"We treat all our venues with care and respect and will ensure the construction and dismantling of any facilities is done with attention to the preservation of the site," she said.