Godalming Asbo breach man Raymond Woods jailed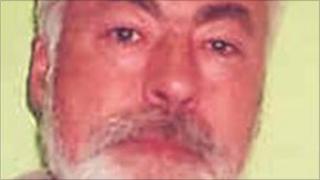 A 55-year-old man banned from a Surrey town centre has been jailed for 12 weeks for breaching his Asbo.
Police said Raymond Woods was arrested after a member of the public spotted him in Church Street, Godalming at 23:55 GMT on Thursday.
Woods, of no fixed abode, is banned from Godalming under an Asbo granted in November 2008. He is also banned from churches in England and Wales.
He was jailed following an appearance before Guildford magistrates.
Woods has already served one 12-week jail term for four breaches of his Asbo in 2009.
He also served a day in court cells in Surrey in June this year.
Intimidation and abuse
Woods has a string of convictions for public order offences in Godalming, including threatening and abusive behaviour to members of the public and intimidating shop keepers.
Police said he had been abusive to people in the doctor's surgery, supermarket, bank and railway station.
Woods also targeted church buildings in Godalming, stealing money and other items and causing criminal damage and intimidating parishioners.
"We have had to deal with Woods countless times for similar offences and I am glad that he has been brought to justice and given a custodial sentence," said Insp Tom Budd.
"I will not tolerate the misery and suffering people in my local community have had to endure."