Solicitor Richard Davies Jones guilty of wife's murder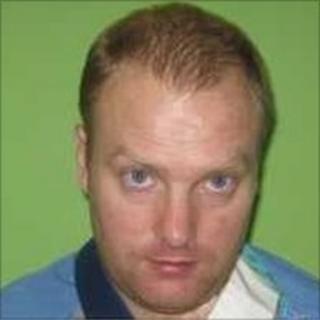 A solicitor has been jailed for life after being convicted of stabbing his wife to death.
Richard Davies Jones, 34, of Lower Ashtead, Surrey, killed his wife Laura after she tried to leave him.
Guildford Crown Court heard the lawyer was found on top of his dead wife in a pool of blood outside their home in Woodfield Lane, in December last year.
A victim impact statement from the victim's mother said her daughter had feared Davies Jones would kill her.
Four jurors broke down as the statement was read in court.
'Horror and pain'
Judge Christopher Critchlow halted its reading so all jurors could leave the court.
The judge also stated Davies Jones would serve at least 20 years in prison.
In the victim impact statement, Mrs Davies Jones's mother, Celia Dakin, said she was haunted by something her daughter said before her death.
She said: "I cannot forget what she said a few days before when she left my house, 'I'm afraid he is going to kill me'."
And she said: "Every time I try to sleep I get pictures in my head of the horror and pain that Laura must have endured.
"Her fear is a constant thought in my mind.
"I have spent nearly all of Laura's life by her side and it grieves me that I was unable to help her when she needed me most."
Mrs Davies Jones's father, Michael Dakin, said: "Laura did not deserve to die. My daughter should not have been taken from me. I do not hate but I cannot forgive."
'Scared he will get me'
The victim's sister Rachel Grunnill said: "Without Laura, there is a big hole, a quietness that stuns."
And one of her five children, who cannot be identified, said: "Because of what happened, I am scared he will come and get me, the same as he did my mum."
During the trial, jurors heard Davies Jones, a former army officer, also suffered knife wounds.
He told the court that he phoned 999 but could not remember what happened.
He also claimed his 31-year-old social worker wife attacked him with a kitchen knife before stabbing herself in the neck.
After the hearing, Det Insp Juliet Parker said the facts of what was a "very sad case" had been put before jurors who decided Davies Jones was guilty. She said it had been an extremely difficult time for the family.
Mrs Davies Jones's parents issued a statement through Surrey Police which said: "We are grateful that justice has been done and that there has been a guilty verdict."
But they added: "Of course, this does not bring our daughter Laura back."