Macaw parrot stolen from Birdworld in Farnham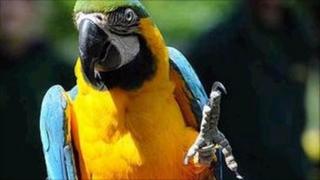 A blue and gold Macaw parrot has been stolen from a padlocked enclosure at a bird park in Surrey.
Spike is not a rare breed but it is thought he may have been stolen to order and could be sold privately.
Keepers at Birdworld in Farnham hatched Spike in 1993 and hand-reared him. Police said it was "a particularly upsetting" crime for staff.
PC Paul Atkinson, of Hampshire police, said Spike's mate, Sam, had been left to tend to their recent clutch of eggs.
Spike is micro-chipped, has an identification ring on his leg, and is thought to be worth about £1,000.
Anyone who has been offered a similar bird for sale or knows anything about the theft, which happened overnight between Saturday and Sunday, should contact PC Atkinson.