Godalming man walks proposed HS2 high speed rail route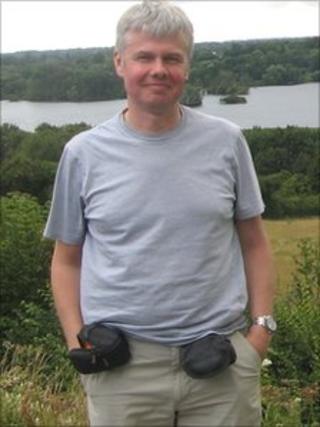 The day after he was made redundant Tim Stansfeld embarked on a journey.
He decided to walk the entire route of the proposed 115-mile HS2 high-speed rail link between London and Birmingham.
Instead of filling his empty days with DIY tasks his wife had lined up for him, he chose a project with a different aim.
He wanted to see the countryside the £32bn rail link would slice through and speak to the people who lived along its route.
But Mr Stansfeld, from Godalming, in Surrey, was no environmentalist. Prior to his walk he said he broadly supported the plan.
However, after his 10-day trip in July, during which he spoke to dozens of people and wrote a blog, he now classes himself as a "sceptic".
He lost his job as a strategy director for the South East of England Development Agency (Seeda) after it was axed by the coalition government.
"David Cameron did me a bit of a favour," he said.
"As I worked for a regional development agency part of what the organisation was about was using public money to help the economy.
"Therefore, I think I started off the walk as a supporter of HS2."
'Polarised opinion'
A public consultation on the project, which is estimated to cut journey times between the UK's two biggest cities, finished last week.
It will travel though Buckinghamshire, Oxfordshire, Northamptonshire, Warwickshire and Staffordshire and is expected to be built around 2026, with the extension to Manchester ready by 2033.
The plans have sharply divided people between those supporters who argue it will slash journey times and opponents who think it is a waste of money.
"I was surprised how polarised opinion was along the route, between people who lived in both cities and those who lived in the countryside, " said Mr Stansfeld.
"I had no idea of the extent of well-informed opposition that is springing up from the edge of London to the edge of Birmingham.
"It was shocking that nearly everyone I spoke to had looked at all the arguments about the costs and the environmental implications.
"If you live a long way from London or Birmingham, there's nothing to like about it. The train is not going to stop [near you] and it could impact negatively upon your house or business."
Mr Stansfeld said he thinks alternatives might have to be looked at.
"I started out as a supporter and have evolved into a sceptic," he said.