Investigation into length of M25 Surrey crash closure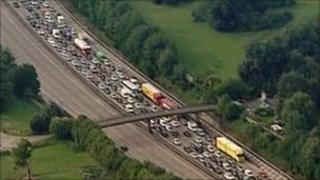 Transport Minister Norman Baker is to look into why it took more than 24 hours to reopen the M25 after a crash which left three people badly hurt.
The motorway was shut on Friday after a lorry hit the central reservation and collided with a car between junctions seven and eight.
It was not full reopened until 21:00 BST on Saturday.
Mr Baker said the Department of Transport (DoT) would be looking into the incident "in some detail".
He told BBC Surrey: "It was a very long time indeed. Obviously it is something we are now looking into in some detail as to what exactly happened and why it took so long.
"One vehicle seems to have caused mayhem but there's also an issue about how long it took for the Surrey Police to hand back the roads to the Highways Agency.
Mr Baker added: "The road itself had to be re-laid. The aluminium bales from the vehicle gouged into the road and caused significant damage.
"The gantry was very badly affected, it was unsafe and had to be removed, so there was actually a huge amount of work caused by one vehicle.
"Every time there is an incident of this nature there is a debrief in the Department of Transport.
"Officials will look at it and I can assure you that both myself and the secretary of state, who is of course a Surrey MP, take these matters very seriously."
The crash caused the lorry, which went through the central reservation and hit a car on the opposite carriageway, to spill diesel on the anti-clockwise side and shed its load on the clockwise lanes.
'Life-threatening injuries'
The collision initially caused tailbacks of up to 28 miles on Friday afternoon.
A Nissan Micra, a Lexus and another vehicle were also involved in the incident, which happened just after 16:00 BST.
The lorry driver suffered serious leg injuries and was airlifted to King's College Hospital, in south-east London.
The driver of the Micra also suffered serious leg injuries, while the front seat passenger in the car suffered life-threatening injuries and was airlifted to the Royal London Hospital.
The bale also hit the Lexus, leaving the driver with minor injuries.
Surrey Police have appealed for witnesses to come forward.