Surrey road resurfacing milestone is reached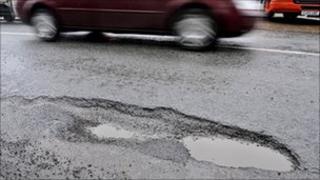 More than a million square metres of road has been resurfaced since May, according to Surrey County Council.
The authority said contractor May Gurney had done enough "surface dressing" in its first 100 projects.
Repair work also included filling in potholes and patching up broken stretches of highway.
In May the county council agreed a six-year deal with the contractor. Earlier this year, the council said it needed £400m to bring the roads up to scratch.
'Working incredibly hard'
London 2012 organisers have also demanded repairs before the Olympics cycle race passes through the county next year.
Councillor Ian Lake, transport spokesman said: "We're working incredibly hard to improve Surrey's roads and this century of resurfacing projects bears testament to that.
"We know there's a lot more to do but I'm sure that over the coming months and years Surrey residents are going to see a big improvement in the standard of their roads."