Sheep dog trials under way at Box Hill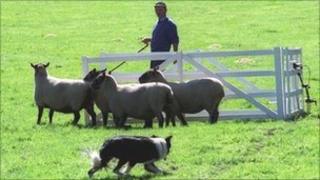 Trials are under way in Surrey to find 15 top dogs to represent their country in an international event.
It is only the second time in more than 100 years the English National Sheepdog trials have been held in the county.
The event, on a 90-acre site at Lower Boxhill Farm, between Dorking and Reigate, takes place over three days.
"We brought it here in 1990 - but hopefully we won't have 90-degree heat like we did then," said chairman of the trials, Andy Jackman.
He said the trials were a "very fiercely fought" contest, with competitors training their dogs three or four times a day.
The winners of the event will take part in international trials against Scotland, Wales and Ireland to be held in September.
The day after the sheepdog trials, Box Hill will be the venue for the Surrey leg of the London-Surrey Cycle Classic race.
Sunday's race, which begins in The Mall in central London, is a test event for the 2012 London Olympics.