New natural meadow burial ground in Elmbridge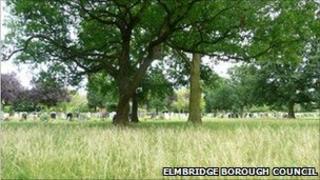 A meadow has been made available for burials at Elmbridge, in Surrey, for those who prefer a more natural final resting place than a formal cemetery.
The unused lawn section in Long Ditton cemetery is managed as a meadow with wild flowers and mature oak trees, which attract wildlife.
The grass is cut once a year to preserve the natural effect and peaceful atmosphere.
Oak plaques on the ground mark the graves, rather than headstones.
Councillor Jan Fuller from Elmbridge Borough Council said: "[We] have opened the new section in Long Ditton cemetery to offer an alternative for those departed who wished to be closer to nature after their passing."