Thieves steal 11th Century coins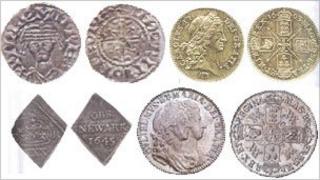 Collectors have been urged to report suspicious items being offered for sale after thieves stole coins dating from the time of William the Conqueror.
The collection, including 50 coins from the 11th Century and half-crowns and guineas from the 17th Century, was taken from a house in Woodcote Side, Epsom.
Surrey Police said the owner, who was aged in his 80s, had spent decades collecting the items.
The coins were framed and believed to be worth thousands of pounds.
Det Insp Liz Parsons, of Surrey Police, said: "These possessions are of huge personal value to the victim who has collected them over his lifetime and it has caused him considerable distress that they have been stolen.
"I am appealing to anyone who has seen these items and in particular to collectors of rare coins to come forward with any information regarding their whereabouts."
Surrey Police have just released details of the burglary which took place on 24 July.