Amateur cyclists to use Box Hill Olympic test route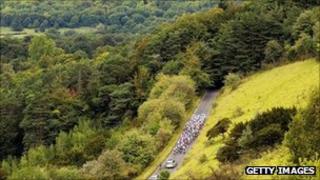 Up to 500 cyclists will have the chance to follow the route taken by some of the world's top riders when they competed in a 2012 Olympics test event.
Amateur cyclists are being invited to take part in an event on the Surrey section of the London-Surrey Cycle Classic.
British cyclist Mark Cavendish won the race, which took place on Sunday.
Ride the Route, a non-competitive 65-mile circuit for amateur cyclists, is being held on 4 September.
The London-Surrey Cycle Classic took riders from The Mall in central London to Box Hill in Surrey and back.
Ride the Route cyclists will have a staggered start from East Molesey from 06:00 BST, travel through Box Hill and return to the start in waves until 14:30 BST.
Organiser Active Surrey said the nature of the route and the need to ensure safety meant participants should be experienced cyclists over 18.
Complaints about road closures led Surrey County Council to apologise to those affected by Sunday's race.
Active Surrey, which is funded by Sport England, said Ride the Route had been timed to minimise disruption to other road users.
It will take place on open roads, with no road closures.