Tandridge council uses covert CCTV to tackle flytipping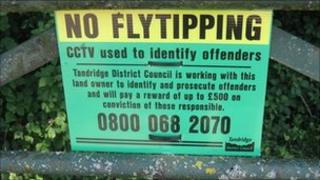 Covert filming could be used by a Surrey council in a bid to crack down on flytipping in Tandridge.
The district council has formed a new partnership with private landowners in a bid to help them tackle the problem.
Councillor Tony Elias said private landowners could face significant personal costs to remove waste from land and afford a private prosecution.
He said the council could take action with enough evidence and in some cases covert CCTV systems may be used.
Search for evidence
A successful prosecution could lead to the recovery of costs for both the landowner and the council, he added.
Mr Elias said: "Our aim is to support local landowners in any way we can, as well as to catch and deter flytippers.
"Using CCTV gives us a better chance of gathering evidence which we can use to prosecute offenders."
Support being offered to landowners includes providing advice on removing flytipped material and examination of the waste to find information on where the material has come from.
The council has put up signs advertising the partnership at problem sites in the borough, in a bid to deter offenders.