Hard-Fi criticised for describing Staines as ghost town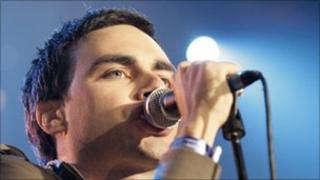 Indie rock band Hard-Fi have upset their home town of Staines after describing it as "like a ghost town".
Council and business officials are urging the band to help promote the area after criticising comments by lead singer Richard Archer.
He told the Times that bars and shops had closed: "Staines is in a dark place at the moment, like a ghost town."
But Spelthorne councillor Colin Davis says Archer has got it wrong - and wants the band to help boost its image.
Staines-upon-Thames
The former Mercury Music Prize nominees, who hail from Staines, use the influence of their urban environment and working-class roots in much of their music.
And in last week's interview, to promote their new album and UK tour, their lead singer and chief spokesman returned to the subject.
Archer said: "A lot of the bars are closing, Habitat went into administration, Jane Norman, Thorntons. It's all starting to fall to bits."
But Mr Davis, cabinet member for economic development, responded by pointing out that Staines had never had a Habitat and Thorntons' Staines branch was staying.
"Far from Staines being a 'ghost town', retail vacancy rates in Staines are running at 8% which is less than half the national average," he said.
"This has not increased to any great extent during the poor economic climate, in contrast to many other towns."
He said negative publicity had prompted the council to consider renaming the town Staines-upon-Thames.
'Swiftly corrected'
And he revealed that he had spoken to representatives of the band's record label, inviting them to "engage with our local community and support promotional events planned over the course of the coming year".
Alex Tribick, chairman of Spelthorne Business Forum, added: "It's frustrating to see the town being misrepresented.
"These sorts of comments can give a wholly unfair and inaccurate picture of Staines, so it's only right that they should be swiftly corrected."
The band has so far not been available to comment.