Backside Common may see small fleabane return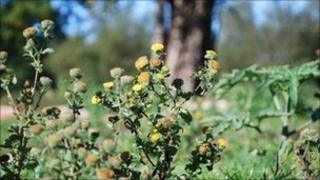 Conservationists are hoping the re-introduction of grazing will lead to the return of a flower not seen on a Surrey common for over 10 years.
Surrey Wildlife Trust (SWT) said the small fleabane had not been sighted on Backside Common since 2000.
The rare plant flourishes on land trampled or grazed by livestock, so three belted Galloway cattle were introduced to the common last winter.
Botanists are surveying the site regularly looking for germination.
The small fleabane, an annual plant with multiple yellow flowers, germinates in spring and summer and blooms between July and October.
It was once relatively common in southern England but populations have fallen since the late 19th Century with the decline in traditional farming methods.
It is now one of Britain's most threatened native flowers.
The grazing of cattle ceased on Backside Common, near Guildford, in 2001 after the retirement of the local farmer.
"We are pleased to see the return of cattle as there is no reason to believe that the small fleabane population should not recover," said SWT area manager Charlotte Williams.
"We will continue to monitor the area throughout the summer months and graze the common every winter from January through to April."