Runnymede phone app charts police officers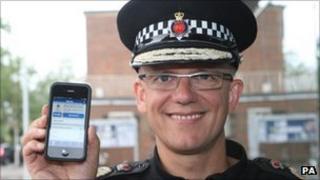 Residents of a Surrey town can now chart movements of their nearest police officer through a mobile phone app.
Surrey Police claims its "trailblazing" gadget will help users in the Runnymede area map crime and see where their neighbourhood officers are.
The app, launched on Tuesday, also allows them to contact officers and find information about local events.
Policing minister Nick Herbert said the interactive technology would help deliver greater transparency.
"We want to provide communities with the information they need so that they are empowered to work with the police to tackle the issues that matter to them locally," he said.
"This new app... crucially provides them with live updates on where and how their local neighbourhood police teams are taking action to tackle issues."
The app, which is available free from the Apple iPhone App Store, has been tried by police staff and officers in Runnymede.
It will also soon be available for Google Android and BlackBerry and it is hoped it will eventually be rolled out across Surrey.
The Home Office has appointed Surrey Police as a trailblazer force to develop and work on innovative ways to give the public information about street-level crime and anti-social behaviour.
Mr Herbert said Surrey's work built on the national crime mapping website, www.police.uk, launched in February.
Ch Supt Gavin Stephens said: "Residents will be able to access the services of their Safer Neighbourhood Team from the comfort of their sofas, as a distraction to the daily commute or a debating point in the pub.
"We are literally putting policing in their pockets."