Revamp set for 1920s Walton Playhouse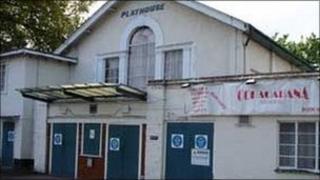 A Surrey theatre built in 1920 by British film director Cecil Hepworth is to be refurbished.
Walton Playhouse originally formed part of the Hepworth Film Studios and was turned into a theatre in 1924 after the studios closed.
After the film studios closed, cinema pioneer Cecil Hepworth bequeathed the building to local dramatic societies.
Elmbridge council said the theatre was last refurbished in the 1960s and safety work would start next week.
Councillor Jan Fuller said: "Walton Playhouse has been at the heart of the community for many generations."
She said the restored building would make a major contribution to local arts projects.
'Electricity generating house'
A condition survey of the building earlier this year led to a decision to proceed with health and safety work.
Work will include a new flat roof, drainage repairs, double-glazed windows, new fire doors and partitions and a new fire detection system.
The revamp also includes toilets, bar and changing areas, the auditorium's ventilation system, new floor coverings and internal and external decorations. The council has not yet revealed the cost of the work.
The Hepworth Film organisation said the playhouse was the last surviving building from Hepworth's film studios and was formerly an electricity generating house which supplied the studios with light and power.
According to the British Film Institute (BFI), Hepworth was "one of the most respected, if not the most dynamic, figures in British cinema".
His first popular success as a cameraman and director came with the filming of the funeral of Queen Victoria in 1901. In 1903, he directed an early version of Alice in Wonderland and one of his biggest hits was Alf's Button in 1919.