Chessington webcams show gorillas' 'secret lives'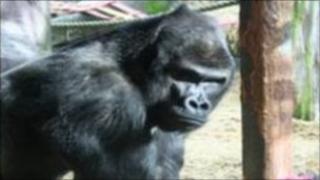 Webcams have been installed in a Surrey zoo's gorilla house with live coverage streamed on to the internet.
Chessington World of Adventures said people would be able to see the family of Western Lowland gorillas going about their everyday business.
Gorilla keeper Michael Rozzi said the primates had entertained him for 30 years and now the rest of the country were being let into their secret lives.
The 24-hour footage is being streamed on to Facebook.
The family of gorillas includes Damisi, a silverback who is leader of the group, and his son Mbula, the three-year-old baby of the house.
The group also has four females, including Shani, who was the first gorilla to be born at Chessington in 1990 and three others with very different temperaments, the zoo said.
They are Buu who is described as inquisitive, Shanga who is said to be mischievous and Asili who is regarded as quiet but with a fiery temper.