Surrey runner embarks on charity trip across USA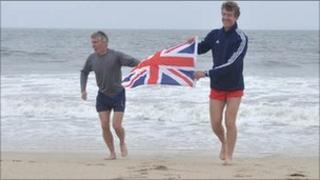 A 52-year-old Surrey accountant has embarked on a 3,080 mile (4,957km) run across the US to raise £10,000 for the Help for Heroes charity.
Chris Finill, of Cranleigh, plans to run 40 miles each day to complete the journey from San Francisco to New York by 6 November for the city's marathon.
He set off from California on 17 August and is currently in Nevada.
Mr Finill, who is an ultra-marathon runner, is being accompanied by athlete Steve Pope.
On Thursday, Mr Finill posted on his website: "A long hot day in Yosemite National Park. 34 miles at between seven and 9,500ft is not exactly my idea of a gentle jog.
"The temperature hovered around 90 degrees in the shade. Unfortunately the nearest shade was about 104 miles away."