Surrey fire service seeks horseboxes to train crews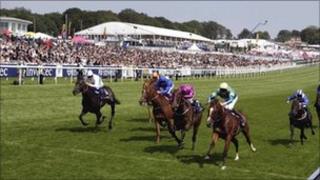 Old horseboxes are being sought by Surrey fire service so crews can practise rescuing animals from crashes.
The fire service said Surrey had four major race courses in the county - Epsom Downs, Kempton Park, Lingfield Racecourse and Sandown Park.
The county's roads were "an artery" for the movement of thoroughbreds and race winners as well as much loved local horses, spokesman Barry Wood said.
He said the service could arrange free collection from anywhere in Surrey.
Vans and minibuses
Mr Wood, who runs the fire service's animal rescue operation, said firefighters' training included practising rescuing animals from crashes.
He said: "The fact our firefighters are ready for anything is down to the regular training they undergo.
"We aim to make this training as real as possible."
He said the service also needed about 30 cars, vans and minibuses for training purposes.
Anyone who can help should contact the fire service.