Vice-chancellor retires from University for the Creative Arts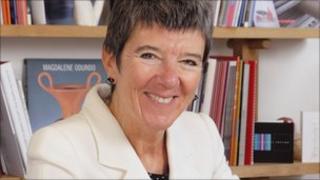 The vice-chancellor of the UK's first specialist arts university will retire from her role at the end of September.
Professor Elaine Thomas, who works at the University for the Creative Arts (UCA), spearheaded its transformation from a university college to a university in 2008.
This followed the merger of the Surrey Institute with the Kent Institute of Art and Design.
A new vice-chancellor, Dr Simon Ofield-Kerr, has already been appointed.
Professor Thomas said: "I am immensely proud of my time at UCA. In creating a specialist arts university we have made a huge difference in the way art and design subjects are perceived.
"One of the biggest achievements has been the development of cutting edge research.
"Historically this has been seen as the preserve of the sciences, but we have challenged that view."
In her retirement Professor Thomas hopes to travel and devote more time to her own work as a fine artist.
UCA has campuses in Farnham, Epsom, Canterbury, Maidstone and Rochester.