Westcott builders go to planning inspector over homes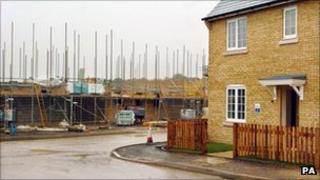 A development company has appealed to the planning inspector to build new homes on an old meadow after a council failed to respond in time to an application.
Campaigners have reacted angrily to Taylor Wimpey's plans for the development in Westcott, near Dorking.
Mole Valley District Council rejected a previous application, but failed to respond in time to a new one.
Council bosses claimed the "complexity" of the scheme resulted in the delay.
The authority failed to respond within the statutory 13-week period and the developer said it was within its rights to appeal for "non-determination" over its right to build 14 homes.
Martin Pearcey, one of the campaigners against the proposal, said he felt let down by the developers.
"There's a due process to go through with planning applications and this is a very complex application as I understand, lots of things to go through and lots of objections because it's very unpopular," he said.
"It really does feel [like] the local people, the local councillors, are just being taken out of the whole process. It's very disappointing."
'Complex scheme'
A spokeswoman for Taylor Wimpey said: "Their [the council's] response to this has only just been received, and in the meantime, the statutory 13-week determination period having expired, we have decided to appeal for non-determination."
Darren Mepham, chief executive of Mole Valley District Council, said the council had already refused permission for the scheme before Taylor Wimpey submitted a new application.
He said: "This is a complex scheme and we have taken steps to ensure that the views of local people and relevant professionals are well understood. In this case, it has been especially important to seek the advice of transport and highways specialists from Surrey County Council."
He added that the planning meeting, which was scheduled for 7 September, would still go ahead and its conclusions would form the council's position when the appeal is heard.