Surrey duck caught after six months of evading rescue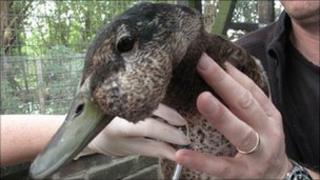 A duck with a large swelling on the side of its head has been caught in Surrey after defying rescuers for six months.
The male mallard was first spotted in the spring at the pond in Ashtead with a large growth on the side of his beak.
The drake was taken to a wildlife hospital in Leatherhead for treatment.
An X-ray showed the swelling to be caused by an infection from a large fish-hook lodged inside his mouth.
Rehabilitation
The Wildlife Aid Foundation was first called out to retrieve the duck to treat what was thought to be a tumour.
But each time capture was attempted he flew away as soon as rescuers approached.
It only became possible to catch the mallard after he became weakened by his injury.
The duck will be operated on this week at the Wildlife Aid Foundation's hospital to remove the fish hook.
The charity said the duck will need a long period of rehabilitation before being released back into the wild.
Founder of Wildlife Aid Foundation, Simon Cowell, said: "We can only guess at the terrible pain he must have been in all this time."