Surrey accountant reaches Utah in US run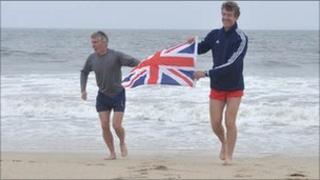 A 52-year-old Surrey accountant who is running 3,080 miles (4,957km) across the US to raise £10,000 for the Help for Heroes charity has reached Utah.
Chris Finill, of Cranleigh, is running 40 miles (64km) each day to get from San Francisco to New York by 6 November for the city's marathon.
The ultra-marathon runner set off from California on 17 August.
Mr Finill, who is being accompanied by athlete Steve Pope.
On his approach to the Utah border, Mr Finill wrote in his blog: "The scenery is subtly changing.
"The road still seems to go on for a long way but every now and then there is the occasional bend to give us something to look forward to, rather than running the entire day staring at the same hill."
After he reached Utah, he said that temperatures had climbed past 110F (43C) but the pair were adjusting to the heat.