Surrey Hospital admits mistakes over care of dying man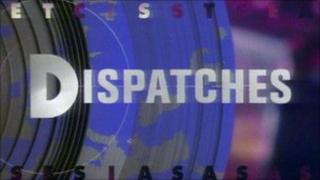 An internal investigation into the care a dying 80-year-old man received at a Surrey hospital, while he was being secretly filmed, has concluded mistakes were made.
Khaleel Rasheed was filmed at East Surrey Hospital, in Redhill, as part of a Channel 4 Dispatches programme.
Mr Rasheed, who suffered from Parkinson's Disease, was shown being shouted at by a nurse.
The chief executive of the hospital has apologised to Mr Rasheed's family.
The independent investigation concluded he was not fed properly or given medication correctly.
It followed two reports by the Care Quality Commission (CQC), which found the hospital was meeting standards.
The filming of Mr Rasheed, between October and December 2010, was agreed by Mr Rasheed's family after they became concerned about the quality of his care.
At one point a nurse on the Godstone ward was seen shouting at Mr Rasheed as he tried to get him to take tablets.
Michael Wilson, chief executive of Surrey and Sussex Healthcare NHS Trust, said: "We have already accepted that during the time Mr Rasheed was in hospital we got things wrong.
"We have worked closely with the Care Quality Commission and we also commissioned an independent investigation into Mr Rasheed's stay in our hospital. We are implementing all the recommendations from this investigation.
"We have apologised to Mr Rasheed's family and have promised to do everything we can to ensure these events are never repeated."