Epilepsy treatment review of children nears conclusion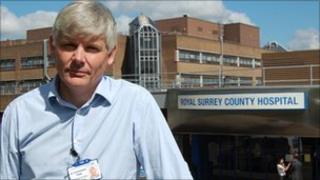 A review into the work of a specialist epilepsy doctor who treated more than 500 children will finish at the end of September.
Dr Nicholas Driver was suspended from the Royal Surrey County Hospital in July after concerns were raised about his methods, going back nine years.
A case note review was ordered by the Guildford hospital's medical director Christopher Tibbs.
Dr Tibbs said the review had made "excellent progress".
The review will look at the records of 569 children treated by the consultant paediatrician.
Dr Tibbs said: "Our independent experts have made excellent progress with the review and we hope that it will be completed by the end of September.
"Once it is complete, we will contact the parents of the children included to let them know what course of action, if any, is recommended.
"For most children we will write to say that no concerns have been raised in the review about current management."
Dr Driver was suspended after a paediatric neurologist from a different hospital raised concerns in February.
Dr Tibbs said he would not release any further information as he did not wish to prejudge the final conclusions of the review.