Heathfield Pond drowning leads to review of signage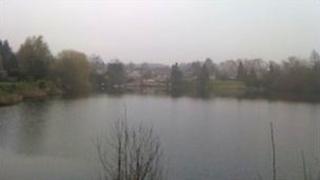 A review is to be conducted into signage around a pond in Surrey following the death of a 15-year-old boy.
An inquest returned a verdict of accidental death after Alfie Rost-Skelton drowned in Heathfield Pond in Cobham in March.
He was in a dinghy with a 17-year-old friend when the boat capsized.
Elmbridge Borough Council has said it will review signs and lifesaving equipment around the pond.
According to the council, there are currently seven signs at the pond, six of which warn people not to swim and the other that there is deep water.
Boating is allowed as a third of the pond backs on to private properties. Many of these have boats moored in the pond and own part of it.
The inquest concluded on Thursday and the coroner did not instruct the council to review signage.
However, Ian Burrows, head of leisure and culture at the council, said the authority took the initiative itself.
"We have brought in a man from the Royal Society for the Prevention of Accidents to help us carry out a review to see if there's anything we could do to learn or improve."
There are currently no plans to ban boating on the pond and the review is expected to be completed by the end of September.