E-fit of man in 'abduction' bid in Whyteleafe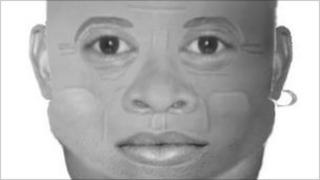 An e-fit of a man suspecting of stopping his car in the middle of a road in Surrey and ordering a woman to get in has been released by police.
Surrey Police said the woman refused to get in the vehicle in Whyteleafe at 14:50 BST on Thursday and the man became aggressive and verbally abusive.
The man drove off after other motorists sounded their horns because he was blocking Whyteleafe Hill.
Officers said they hoped the release of the e-fit would jog someone's memory.
The suspect was described as a bald black man, of muscular build. He had a gold hoop in his left ear and spoke with a Jamaican accent.