Staines name-change to be run past residents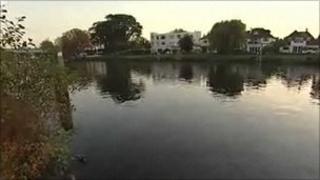 A plan to rename Staines in order to promote the town and end negative perceptions of it could be run past local residents and businesses.
The Surrey town, lampooned by comic character Ali G and indie band Hard-Fi, would become Staines upon Thames.
Spelthorne council's cabinet will vote on whether to hold a consultation next week, after which a vote on the name change would be held in December.
They hope the new name will make the town seem "green and pleasant".
Business leaders staged a boat trip along the "Staines Riviera" on Tuesday.
Spelthorne Business Forum met on the Queen of the Thames river boat for networking and a continental breakfast.
'Riverside environment'
Alex Tribick, forum chairman, said: "Staines is inextricably linked with the River Thames but unfortunately, other than people that live in the locality, nobody seems to realise that, and if we have one of the world's great iconic assets we should shout it from the rooftops."
He said changing the name would not be expensive and any costs were related to stationery and signage.
"Most signage is, we believe, going to be sponsored and therefore nil cost for any alterations to that," he said.
"When stationery is used, it will just simply be replaced in due course by businesses and local government in the normal way."
Spelthorne council said the proposal to change the town's name had come from its economic development theme group, which believed current negative perceptions of Staines were limiting investment and economic growth.
A statement said: "A change of name would support the marketing of the town as a green and pleasant riverside environment."
The council also said it was recognised that a change of name alone was not sufficient to achieve these objectives but was required as a first step.
In June, rock band Hard-Fi upset their home town of Staines after describing it as "like a ghost town". And in 2009, comedian Sacha Baron Cohen used Staines, which is in Spelthorne, as the home of spoof rapper Ali G.