Chobham riding school's 'Reagan' saddle in tack theft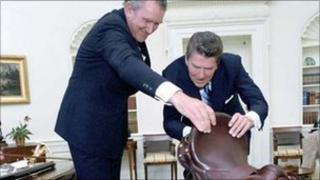 A saddle that was one of only two made, with the matching one presented to Ronald Reagan at the White House when he was US president, has been stolen.
The item was part of tack worth £20,000 stolen from an equestrian centre for people with autism in Chobham, Surrey.
In an appeal for information, Det Con Stuart Pittaway, of Surrey Police, said the saddle matching the one presented to Reagan was very distinctive.
The theft happened overnight between 7 and 8 September, police said.
Alison Halsey, who owns the centre which provides riding lessons for people with autism and other disabilities, said: "The theft has been especially hard on everyone connected with the project we have set up.
"We are linked to the National Autistic Society and wanted to help the children and their families in the area, but the theft of the saddles and tack has put back all the hard work the team has recently done at the centre."
Det Con Pittaway urged anyone who had been offered a saddle for sale recently, or who had any other information, to contact him.
The riding school address has not been released by police.